August 26, 2020
A Quick Guide to Your Next Office Renovation
Renovating an office can be a daunting task.
Not only do you need to think very carefully about money, i.e. your business budget, but you also need to think about time. Are your employees going to be able to continue working in the space whilst a renovation is going on? Or, perhaps more likely, will they need to relocate during that time? Of course, it's possible to ask contractors to do their work during weekend and evening hours, but this will almost always cost you more.
It's a case of weighing up the pros and cons and arriving at a solution which suits you best.
However, despite the cost and time element, renovating your office and purchasing brand new office furniture to compliment the look has many benefits attached to it. Bringing fresh energy and light into an area is ideal for boosting employee morale, whilst also ensuring that anyone who visits your office has a positive first impression of you as a business. Remember, first impressions count for everything in this world!
A fresh, modern and funky office space is far preferable to and old, tired, and dark office which has seen better days. If that sums up your office right now, it's definitely time to start thinking about a renovation.
What Does a Renovation Entail?
A renovation is different from a redecoration. A redecoration means that you simply change the colour of the walls and perhaps buy a few new desks here and there. A renovation means that you completely change the look and feel of the office. It might mean knocking down walls, changing the shape and total appearance of the office, but that doesn't always have to be the case. However, a renovation is a total overhaul, rather than a quick lick of paint. As a result, it takes longer, requires more planning, and of course, in the end costs more money.
With a renovation, planning is everything. Doing your research beforehand means that you'll tick the boxes of what you need your office to be. The infographic below gives some great suggestions on what to think about when you're in that important planning stage.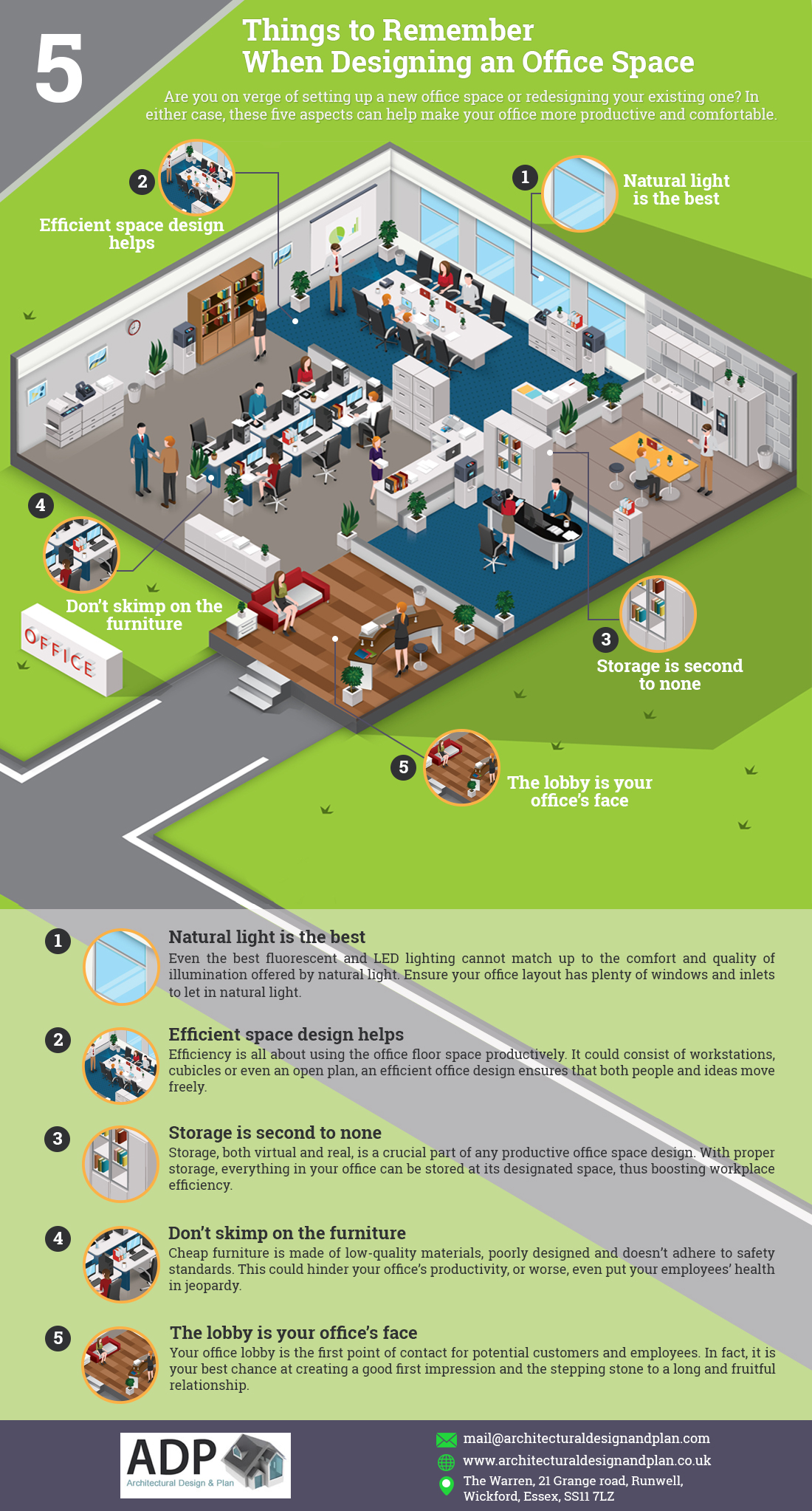 Once you have an idea of how you want your office to look there is another step which many businesses miss out – consulting with your employees and asking them what the think.
Your employees work in the office day in day out. They spend hours at their office chairs and they are the ones who understand the most about the space. They know more than you do. Speaking to your employees and telling them what you're thinking about doing with the office and then asking for input is a good way to not only ensure anxiety doesn't occur, but also to gain ideas. Whenever change occurs within a workspace, there is always the potential for worry. This does nothing for morale, so always keep your employees up to date. If you do so, and ask for their suggestions, they'll be completely on board and will probably be quite excited about the idea of having a brand new space to call their working home!
Key Elements to Consider Prior to a Renovation
We've already covered a few things you need to think about in terms of what to put where in our earlier infographic, but what business-related areas do you need to consider before you give the green light to go ahead?
A Realistic Budget
Renovations cost money. That's something we've already ascertained. However, you can save costs if you're careful and you shop around. For instance, if you're planning on knocking down walls and changing the entire shape of the space, you will need to put together a plan and ask construction companies for proposals. You would then go with the company offering you the best service, for the lowest price. Do remember though, sometimes you get what you pay for!
Set a realistic budget and do you best to stick to it. It's always a good idea to have a 'just in case' amount added on. Renovations rarely run to schedule and there will always be a slight hiccup at some stage of the process.
Timescales
How quickly do you need the renovation to be done realistically? Understanding how much time you have to play with informs what you can realistically do. You might want to knock down all the walls and create a biophilic design with a living wall, but if you've only got two weeks available for the work to be done, it's simply not going to be viable!
Consider when the work can be done, how much time you have, and plan around that accordingly. If that means lowering your expectations, you may just need to fall in line.
The Size of Your Office
Whilst you can change the structure of certain office types, this isn't the case for all. If you have a very small office, you're going to have to get creative in terms of how to make it attractive and productive. The video below has some great ideas on how to change a small space into a creative and fun office.
Remember to think about your office storage needs here too – many businesses forget about storage and then find that they have less space than they planned for.
New Office Furniture
A renovation will certainly involve the purchasing of bespoke office furniture for your space. This will be the cherry on the top of your new design so do some research into what type of furniture you would like and remember to think about ergonomic options. This will give your employees a comfortable place to work, without aches and pains.
Decor Options
Finally, you need to think about how you're going to decorate your office once finished. Neutral colours are ideal for creativity and calm, whilst patterns are ideal for whipping up some energy! Biophilic options, bringing nature indoors, is also a good choice to think about for productivity and a generally pleasing appearance.
Renovation is a time-consuming task, but it's one which will bring you major benefits in the end. Remember to shop carefully for your London office furniture and think outside the box when it comes to your overall design. Do that, and you'll create a pleasing space for your employees and your visitors.